'Unpardonable Gaffe': UP Diliman Worries About Faulty Military Intel; AFP To Apologize After Red-Tagging Alumni
Among those falsely accused by the military of being communists are the government's former chief peace negotiator Alexander Padilla and a lawyer who assists in efforts to challenge the Anti-Terrorism Act before the Supreme Court.
University of the Philippines Diliman (UP) chancellor Fidel Nemenzo has expressed worry that law enforcers will act against students and faculty members on the basis of "a military database that is riddled with factual errors" following the Armed Forces of the Philippines' (AFP) false red-tagging of prominent alumni – including the government's former chief peace negotiator Alexander Padilla.
As the affected alumni raised the possibility of taking legal action such as cyberlibel complaints, Defense Secretary Delfin Lorenzana told reporters in a text message on Sunday, Jan. 24: "The AFP will apologize. What reason will they give? I don't know. It's an unpardonable gaffe."
Also on Sunday, Vice President Leni Robredo said these issues are not helping the image of the Armed Forces that appears to resort to strong-arm tactics.
Authorities have made back-to-back questionable or misleading statements in the days after Lorenzana on Jan. 15 unilaterally terminated the 1989 agreement requiring law enforcers to notify UP officials before entering its premises, even if critics said there was no exit clause allowing him to do so.
Lorenzana cited without explanation the alleged "ongoing clandestine recruitment inside UP campuses nationwide for membership" in the Communist Party of the Philippines (CPP) and the New People's Army (NPA), which the Anti-Terrorism Council designated as a terrorist organization on Dec. 9.
List includes member of Duterte's Consultative Committee
In a post on Thursday, Jan. 21, the Facebook page "Armed Forces of the Philippines Information Exchange," administered by the office of Deputy Chief of Staff for Civil-Military Operations Maj. Gen. Benedict Arevalo, published a list of "Some of the UP students who became NPA (Died or Captured)."
The National Union of Journalists of the Philippines (NUJP) was able to take screenshots of the now-deleted post, which listed prominent UP alumni who have served in government such as Padilla – who chaired the government panel in the now-scuttled peace negotiations with the CPP-NPA – and former Department of Environment and Natural Resources undersecretary Elmer Mercado.
The list included Roan Libarios, a former Agusan del Norte vice governor and 2nd District representative and former national president of the Integrated Bar of the Philippines – and a member of President Duterte's very own Consultative Committee to Review the 1987 Constitution, which drafted a proposed new charter.
Another lawyer dragged in the mess was Rafael Aquino, who was deployed by the Free Legal Assistance Group to represent the petitioners in one of the 37 petitions challenging the constitutionality of the Anti-Terrorism Act or ATA.
Also included in the list were Agence France-Presse's Singapore bureau chief Roberto Coloma, former Forbes Philippines editor-in-chief Roel Landingin, Institute for Social Entrepreneurship in Asia president Marie Lisa Dacanay, and Philippine Educational Theater Association members Liza Magtoto and Behn Cervantes, a leading protest figure who was detained thrice during the Marcos regime and succumbed to diabetes complications in 2013.
'Are there more wrongly accused students?'
Nemenzo expressed "grave concern" about the possibility that the AFP may be implicating many more alumni and students in the 50-year-old insurgency, zeroing in on the statement's use of the word "some."
"The list presents itself as only partial, identifying only 'some' UP students. We are concerned that the AFP may be harboring a database of a much longer list of UP students across many years, wrongly and similarly accused as NPA like these student leaders who were our students some forty years ago," Nemenzo said in a statement on Sunday.
He noted that this development came after the abrogation of the 1989 agreement meant to safeguard UP students, faculty and personnel from abuses by law enforcers.
"We are worried that a military database that is riddled with factual errors may unduly become the basis for overt and covert military action against our students and alumni across four decades or more," he said.
Even though the post had been taken down, he stressed that "the damage has been done" against the falsely red-tagged alumni.
"It is unthinkable that despite the millions of taxpayers' money poured into military intelligence, the AFP is making such baseless accusations, in the process violating the civil liberties and putting at risk the lives of responsible citizens who are actively contributing to nation-building in their chosen professions," Nemenzo underscored.
'We want to make AFP accountable'
As for the falsely red-tagged alumni, Aquino said they were considering the filing of cyberlibel complaints and other legal actions. He also noted the possible "angle of contempt" by the military because of his involvement in the ATA cases, on which the SC will hold oral arguments on Feb. 2.
"The members of the group are consulting and definitely, we want to hold people accountable for this reckless publication of a list and our malicious inclusion in that list," he said in a virtual briefing hosted by the Right to Know Right Now Coalition on Saturday, Jan. 23.
Dacanay said she could not take this lightly "in the context of the unconstitutional provisions of the Anti-Terror Law."
She stressed the "need to make the AFP accountable for actions that are libelous and potentially endangering and wreaking havoc on the lives of individuals like me who are living peaceful, meaningful lives as responsible citizens and advocates of democracy and sustainable development."
Landingin pointed out "if that's the kind of information they use for military operations," they could all have been arrested if they gathered in normal circumstances and appeared to be an NPA assembly.
An agitated Mercado said the false information spread by the AFP's social media pages "underestimates the intelligence of the Filipino people."
"Ang akala nila lahat ng tao tanga, at hindi nakapag-aral (They think everyone is an idiot and uneducated). With the access to social media, you cannot color everything by whatever fake news or narrative, because the reality and truth will always come out because it's right there in your face," he said.
On the other hand, Mercado pointed out that since it has been a label used by the government to label advocates who act and campaign for the interests of communities, there should be nothing "wrong with being Red."
"If Red means articulating your ideas, presenting your analysis based on your understanding of the facts, based on objective reality, and based on your appreciation of the dynamics and understanding of what's happening in society and articulating it to the best of your ability, and doing something about it, whether you do it through your development work, the work that I do with [local government units] doing disaster climate change planning, what's wrong with that?" he said.
While Padilla had experience talking peace with the CPP-NPA, he now expressed worry. "With these baseless allegations and because of red-tagging and the Anti-Terrorism Law, I am now anxious for me and for others on the list, whose lives are now placed in peril," he wrote on Facebook.
No apology from AFP Information Exchange
But unlike Lorenzana, the administrators of "AFP Information Exchange" did not apologize. In its post on Sunday it only said that "inconsistencies regarding the list of some of UP students who became NPA was brought to our attention."
"In view of this, we inform our followers and the public that thorough validation is being undertaken by our team to rectify the information," read the post. "After said validation, clarification and appropriate actions will be promptly done."
The post was shared by at least 13 military-related social media pages, as counted by the NUJP. "That these units shared this post means they believe in the truth of the accusations. Would it be farfetched to worry that they might go from sharing the accusations to actually taking action against those so accused?" the group said.
"The very real danger is how those who wield the armed might of the state can so easily and brazenly engage in such obvious and deadly falsehoods without any thought to the consequences," the NUJP added.
'Politicized and unprofessional AFP'
For Sen. Francis Pangilinan, who chaired the UP Diliman University Student Council from 1986 to 1987, the "lies" spread by the military social media pages gives it a bad name and undermines its credibility and professionalism.
"We cannot afford to have a politicized and unprofessional AFP. Let us not forget that it was the glaring lack of professionalism in the AFP that caused it to turn against itself during the last years of the Marcos regime," Pangilinan said in a statement on Sunday.
"Bahagi ito ng tangkang bansagan ang UP bilang sentro ng mga rebeldeng komunista. Mapanganib itong pabara-barang mga paratang dahil nilalagay sa peligro ang kaligtasan at buhay ng mga nasa listahan (This is part of the attempt to label UP as center of communist rebels. These careless allegations are dangerous as they put at risk the safety and lives of those on the list)," he added.
In her weekly radio program "BISErbisyong LENI," Robredo said the Department of National Defense (DND) and UP would be better off discussing the agreement, and encouraged the former to present to the university's community the bases of its allegations, if there is any, rather than make sweeping actions like terminating the accord.
"Kung mayroong basehan iyong kanilang reklamo, sana i-present ito sa UP community. I-demand sa UP community na… pagtulungan iyong mga problema na nagbe-beset sa atin. Pero huwag naman, huwag naman iyong parang kalaban, kasi hindi naman tayo magkakalaban (If there is any basis to their complaint, this should be presented to the UP community. They should demand that the UP community cooperate regarding the problems that beset us. But, let us not, let us not treat it as an enemy, because we are not enemies)," she emphasized.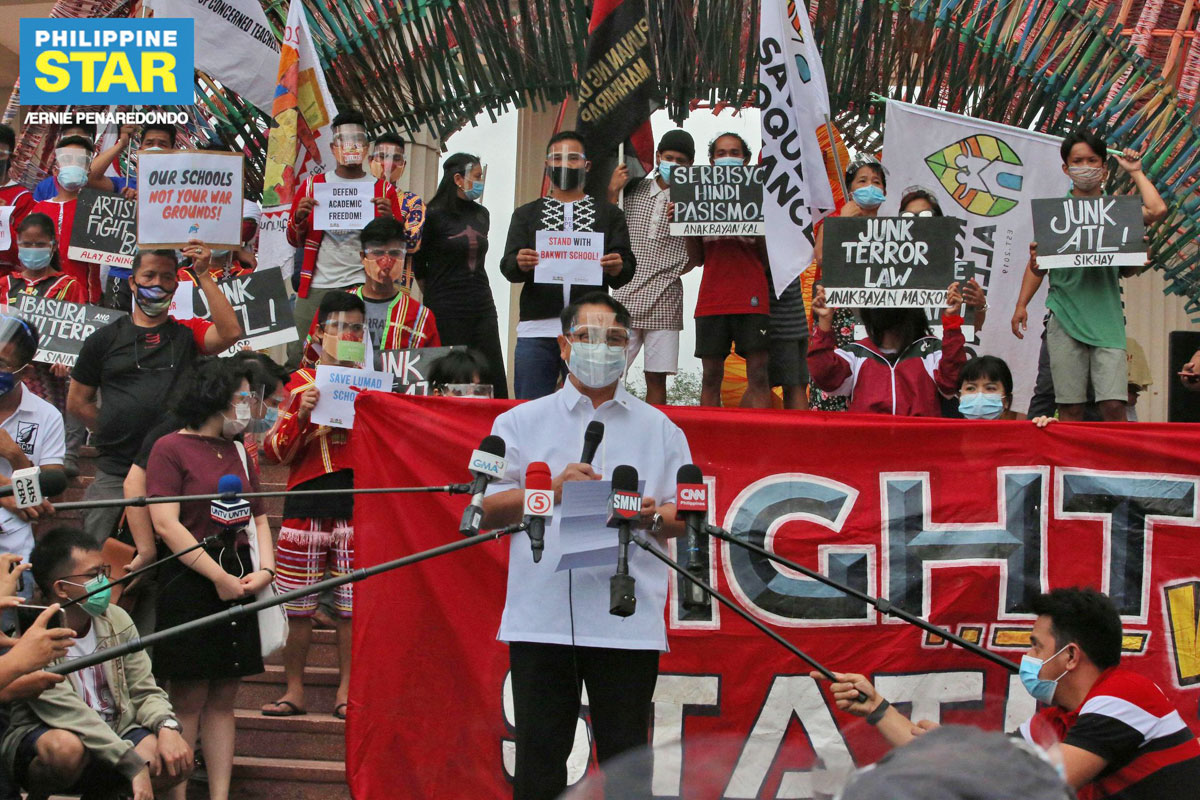 'Recruitment hub' claim slammed
Over the past days, it emerged that the government was targeting not only UP, but also the other mostly private academic institutions under the pretext of the counterinsurgency program.
National Task Force to End Local Communist Armed Conflict spokesperson Lt. Gen. Antonio Parlade Jr., claimed in an interview over radio station dzBB on Saturday, that 18 universities and colleges were "recruitment havens" for the NPA.
Four major private universities implicated by Parlade – the Ateneo de Manila University, De La Salle University, University of Santo Tomas, and Far Eastern University – denounced the allegations that, to them, are "really getting old" and are "irresponsibly cast without proof."
The universities said they "neither promote nor condone recruitment activities of the New People's Army and, indeed, of any movement that aims to violently overthrow the government," stressing their responsibilities to "promote learning and safeguard the rights of the young."
At the same time, they underscored that they "value the Filipinos' basic Constitutional rights of speech, thought, assembly and organization," and asserted their need to "retain independence and autonomy from the State and other social institutions."
"As universities with high aspirations for our country, we seek to direct our students to engage in acts that contribute to the strengthening of social cohesion, defend the country's democratic institutions, and promote nation-building," read the statement signed by FEU president Michael Alba, DLSU president Raymundo Suplido, UST vice rector Isaias Tiongco, and ADMU president Roberto Yap.
'Let's fix this'
In a video message posted on his Facebook page on Sunday addressed to the UP community, Lorenzana said: "Help me fix this, let us talk and find ways to end this insurgency once and for all. Let us work together and move forward."
He explained his decision abrogating the DND agreement with UP "is a fulfillment of a patriotic duty even though it is an unpopular move."
"My intentions are pure. My goal is simple. To minimize the threat to the youth," Lorenzana, who had described the pact between UP and DND as an "obsolete" that has allowed the state university to "become a safe haven for enemies of the state," declared.
He acknowledged that some may see his move as a rash decision but according to him, the numerous experiences and grueling testimonies presented to him by former NPA rebels prompted him to terminate the UP-DND agreement.
"I personally bore witness to the atrocities committed by the communist terrorist against our people. They prey on our children's idealism and vulnerability, even costing them their own lives," he said.
"I have been fighting for this country all my life as a soldier. Our problem with the CPP-NPA has been with us for 52 years," he added, as he asked the UP community to help fight and end the insurgency.
In the same social media post, Lorenzana said he believes "that abrogating the UP-DND agreement, despite it being not well-received by many, is a fulfillment of my sworn duties as the defense secretary of this nation. We stand by our choice to protect our youth and encourage our fellow Filipinos to help us finally end this 50-year war."
Security officials of UP Diliman in Quezon City, meanwhile, said there was no basis to claim that there were rampant illegal drug activities or even a shabu laboratory inside the campus.
The UP Diliman Public Safety and Security Office (UPD-PSSO) also belied reports of a high crime rate prevailing inside the university.
The UPD-PSSO, which is under the Office of the Vice Chancellor for Community Affairs (OVCCA), said that drug-related cases comprise only one to two percent of the total safety and security incidents reported inside Barangay UP Campus.
In February 2020, the only three recorded cases of possession of illegal drugs involved persons not connected in any way with the University, the UPD-PSSO said.
It noted that the last two cases that involved faculty or students took place in late 2016, and no drug-related incident involving a UPD employee has been reported since 2017.
"Neither was there information or intelligence reports from the PNP (Philippine National Police) or PDEA (Philippine Drug Enforcement Agency) of the operation of such within our community," the UPD-PSSO said in a report. – With Helen Flores, Michael Punongbayan, Rainier Allan Ronda