Science For The People
A technique to control mosquito population and two other innovations are some of the hits during this year's National Science and Technology Week at the World Trade Center in Pasay City.
A revolutionary way of rendering mosquitos sterile. A hybrid trimaran vessel that powers itself through the force of waves. A system for charging e-vehicles within as quickly as 30 minutes. These are just some of the innovations that made waves at the opening of this year's National Science and Technology Week (NSTW) at the World Trade Center in Pasay City on July 17.
Every year, the Department of Science and Technology (DOST), along with the different agencies under it, gathers different educational institutions, researchers, inventors, scientists, engineers and other individuals in the field of science and technology at the annual NSTW for a weeklong showcase of the latest homegrown innovations and technologies.
Anchored on the theme "Science for the People: Enabling Technologies for Sustainable Development," this year's showcase from July 17 to 21 focuses on innovations and technologies that help meet eight Millennium Development Goals and are expected to have a sustainable impact in the lives of ordinary Filipinos.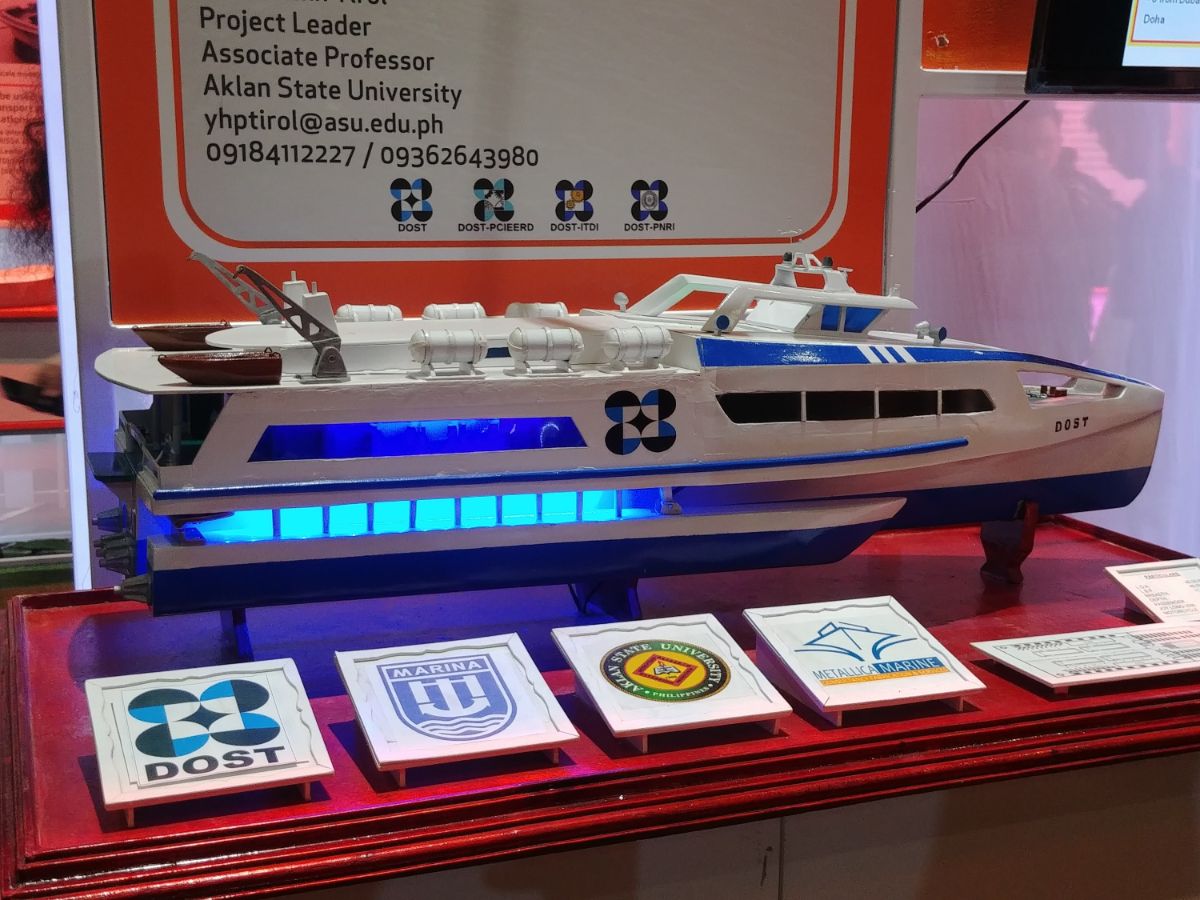 A model of the hybrid trimaran vessel, which generates power from ocean waves that hit the outriggers, developed by researchers at the Aklan State University College of Fisheries and Marine Sciences. Photo by Epi Fabonan III, The Philippine STAR
A boat powered by every wave
Being an island nation, among the common forms of transportation in the country are boats and ferries. Most of these vessels are powered through conventional means such as gasoline and diesel engines. These vessels' reliance on fossil fuels results in a higher carbon footprint.
Some of these vessels, because of the engine's lack of maintenance or advanced age, also experience loss of power at sea, which could pose a danger to passengers and crew.
To address these two problems, researchers from the Aklan State University College of Fisheries and Marine Sciences led by Dr. Yasmin Tirol came up with a revolutionary design in seagoing vessels that enable them to generate their own power from the very waves they encounter at sea.
With the assistance of the Aklan Research Center for Coastal Studies and Metallica Marine Consultancy Fabrication and Services, the result of their research is a hybrid trimaran vessel that uses wave energy to generate electricity from the outriggers.
"Every time the trimaran encounters waves, a dual-action pump fitted in the outrigger converts its up and down movement to electrical energy, which will power the air conditioning and auxiliary systems of the vessel. It also has an independent multi-engine technology that provides backup should an engine failure occur at sea. Because the main problem with boats in the country is that most of them are fitted with only one engine and can easily get stuck during inclement weather," project staff Jamaica Alcedo said.
The researchers are currently in the process of constructing a prototype, which will undergo sea trials and certification from state agencies before it enters commercialization.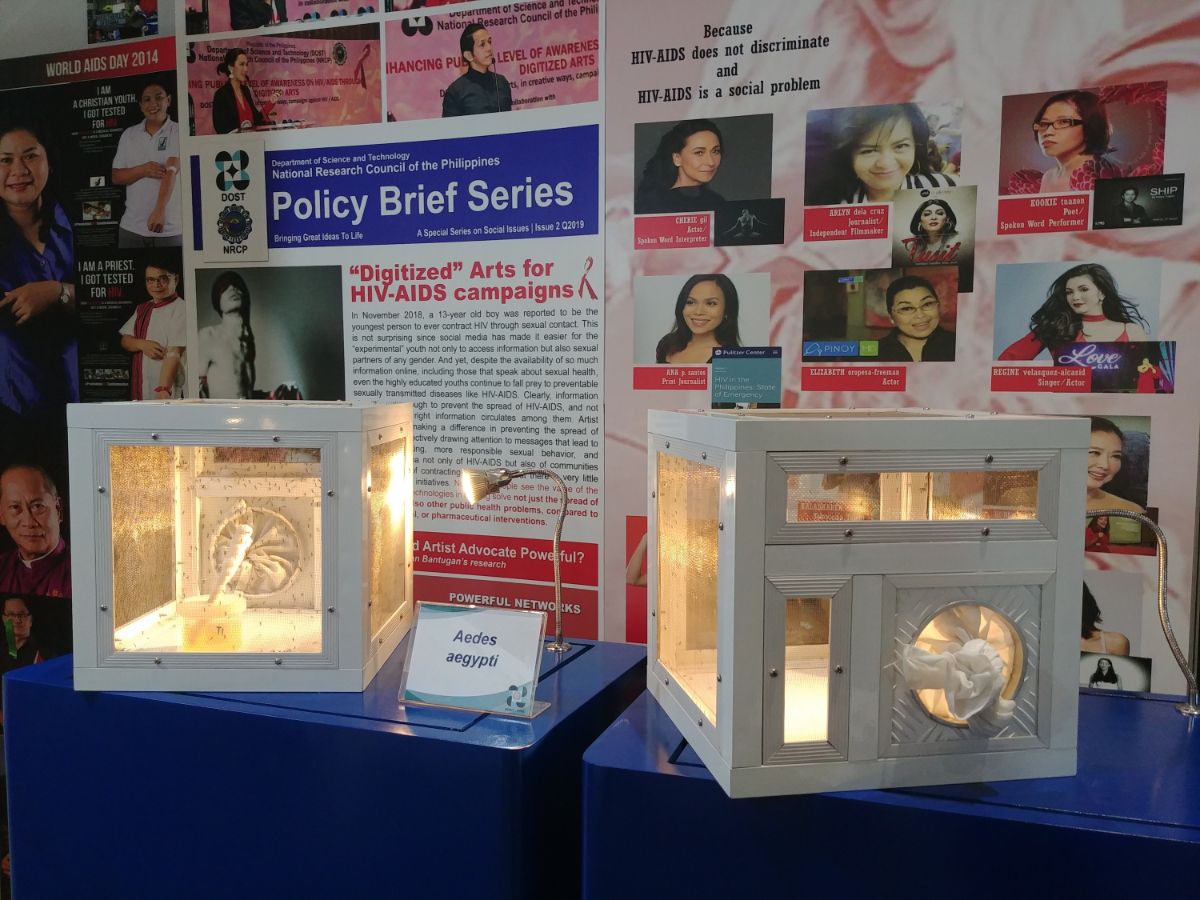 A sample colony of Aedes aegypti mosquitoes that will be subjected to the sterile insect technique (SIT) at the Philippine Nuclear Research Institute for use in eradicating mosquitos that spread the Zika and Chikungunya viruses. Photo by Epi Fabonan III, The Philippine STAR
Rendering mosquitoes sterile
With the rainy season upon us, people are at a greater risk of exposure to mosquito-borne diseases such as dengue, Zika virus and Chikungunya virus. Because these diseases still have no known vaccines that would prevent their spread, the common method of combating these diseases is through mosquito control.
Fumigation, pesticides, larva traps and source mitigation are among the common forms of mosquito control, each with various success rates.
One technique that is currently being looked into by Dr. Glenda Obra, head of the Agricultural Research Section of the Philippine Nuclear Research Institute (PNRI), in controlling the mosquito population is the sterile insect technique (SIT).
First developed in the 1950s, the technique has been successful in eradicating the screwworm fly and Mexican fruit fly, which are considered pests in certain parts of the world. Obra now wants to use the technique to control mosquito populations that transmit the Zika and Chikungunya viruses.
"SIT involves mass killing of the target pest through irradiation of a sample of the target pest to sterilize them. It also involves the release of irradiated mosquitoes in the field to mate with female mosquitoes, and once mated, the females won't reproduce because they're sterile," Obra explained.
Obra and her team are currently conducting radio-sensitivity tests using different doses of radiation to determine the appropriate dose that would render the disease-spreading mosquitoes sterile. Once the technique has been proven effective, it will be used as one of several approaches to preventing the spread of Zika and Chikungunya viruses, aside from available mosquito control approaches and vaccine development.
The abaca fiber boat, developed at the DOST's Industrial Technology Development Institute, is seen as a low-cost and environmentally friendly alternative to plastic, aluminum or fiberglass dinghies used in rescue units and recreational activities. Photo by Epi Fabonan III, The Philippine STAR
Low-cost abaca fiber boat
Flooding is a perennial problem in the Philippines, which is why many local government units (LGUs) purchase aluminum, fiberglass or rubber dinghies for use as rescue boats during massive flooding in their localities. Each dinghy costs between P40,000 to P120,000 depending on the material and supplier.
To provide LGUs, government agencies and private organizations with a cheaper alternative, Dr. Marissa Paglicawan and her team at the Material Science Division of the DOST's Industrial Technology Development Institute created a lightweight, low-cost, corrosion-resistant and environmentally friendly abaca fiber boat, made from a combination abaca fiber and polymeric resin.
"Abaca is abundant in the Philippines and we are the number one producer of abaca. This is one of the strongest fibers among the natural fibers. It's lightweight, at the same time, it's very good for use in water. It is used as rope in ships and boats, and even if immersed in water for a long time, its quality doesn't deteriorate quickly. That's why we used it as the material for the boat," Paglicawan explained.
Paglicawan and her team have already conducted tests on impact strength, weathering and water absorption using the abaca fiber boat. Before the end of the year, they will subject the abaca fiber boat to a series of sea trials that will be monitored by the Maritime Industry Authority before it becomes certified for mass production.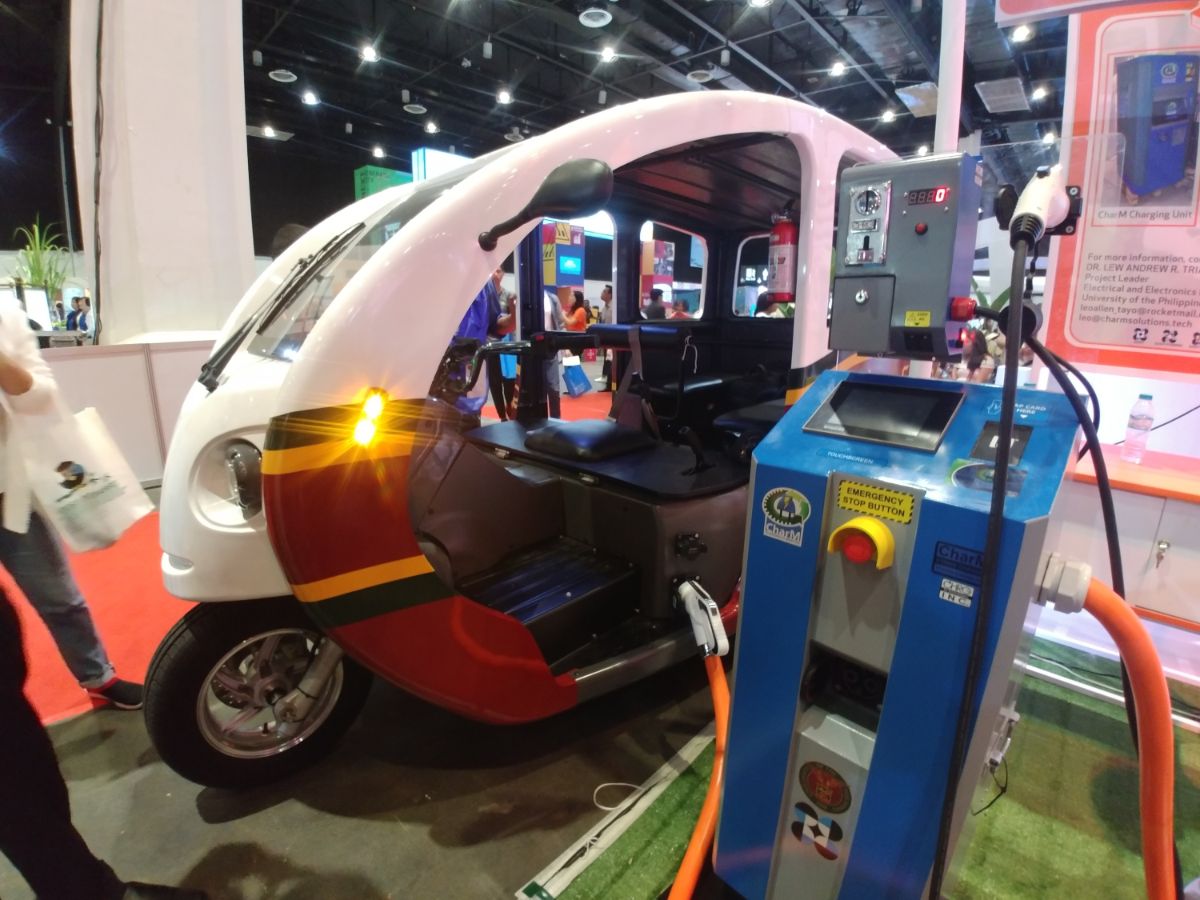 Engineers at the UP National Center for Transportation Studies invented this smart fast-charging unit that charges e-vehicles in less than an hour compared to the usual charging time of six to eight hours. Photo by Epi Fabonan III, The Philippine STAR
Faster charging for e-vehicles
As more and more Filipinos make use of e-vehicles as public transportation, one of the prevailing challenges to its use is the long charging time.
For example, the electric tricycles that are available in the streets today take between six to eight hours to fully charge. For a tricycle driver, that means lost revenue because of the inability to work during the vehicle's charging hours.
Fast-charging technologies are being seen as the solution to this problem. Already present in most smartphones and laptop computers, fast charging is already available in other countries, but entails a hefty cost once imported to the Philippines.
Engineers Leo Tayo and Lew Tria at the Electric Mobility Research and Development Group of the University of the Philippines' National Center for Transportation Studies have come up with their own fast-charging technology that is cheaper compared to international developed chargers.
Dubbed CharM (Charging in Minutes), the charging system provides a fast, robust, safe and reliable charging system for e-vehicles. It reduces the conventional six-to-eight hours charging time to less than an hour or even a matter of minutes for small e-vehicles.
According to Julie Ann Alicos, project staff for CharM, they've already conducted field testing for the technology in Mandaluyong City and at the Isabela State University in Cauayan, Isabela. Their field testing revealed that e-vehicles that made use of CharM could receive a full charge in as fast as 20 minutes.
The group is currently in the process of acquiring licenses to produce and operate their fast-charging stations.
The annual NSTW traces its roots to the 1950s when the Philippine National Science Week was first held and was institutionalized in 1982 by virtue of Proclamation No. 2214 signed by the late dictator Ferdinand Marcos. Since 1993, the NSTW is celebrated every third week of July by virtue of Proclamation No. 169 signed by then president Fidel Ramos.