A Glimpse Into The Life Of Douglas MacArthur's Filipina 'Mistress'
The late actress Isabel Rosario Cooper performed the first kiss in Philippine cinema in the 1926 silent movie Tatlong Hambog. Incidentally, the first silent movie in the country, Dalagang Bukid, was released 100 years ago today or on Sept. 12, 1919.
She performed the first on-screen kiss in the country. And she was called a "mistress" of Douglas MacArthur — the US Army general assigned in the Philippines who became renowned for the words "I shall return" — even if he was free to marry her. She appeared in bit roles in Hollywood films. At the age of 46, she committed suicide.
The mysterious life of Isabel Rosario "Dimples" Cooper piqued the curiosity of multi-disciplinary artist Miljohn Ruperto while researching on the life of MacArthur. Ruperto's first exhibit featuring Cooper's film clips, photographs, a script and a video imagining the life of the late actress was first mounted in 2014 by Koenig and Clinton, an art gallery in New York.
"Four years in the making, the artist deploys photography, film, video and screenplay in homage to the eponymous actress," Koenig and Clinton wrote in a press statement way back in 2014 about Ruperto's first solo exhibition.
The statement said Ruperto "retrieves the actress from the sidelines of historical periphery and recasts her as a cinematic protagonist, releasing her image from the racial confines of both Hollywood and US history."
The same exhibit was presented by the Archivo 1984 Gallery in Makati City from Aug. 15 to Sept. 6. According to gallery manager Yannah Justiniani, the exhibit was fitting for the celebration of 100 years of Philippine cinema.
On Sept. 12, 1919, the first-ever Filipino-produced film was exhibited. It was the silent picture Dalagang Bukid directed by Jose Nepomuceno and topbilled by bodabil (indigenized form of vaudeville) performer and eventual National Artist Atang de la Rama.
"I knew about Dimples Cooper (she was from Paco, the same neighborhood I am from in Manila 50 years prior) but never really knew any details until I found some helpful footnotes in a biography on MacArthur," Ruperto, a Filipino-American artist based in Los Angeles wrote in a catalogue about his exhibit released by Archivo.
Cooper was known as Dimples apparently because of the prominent dimples on her cheeks.
"Through research I found that Cooper came to Washington D.C. in 1930 to be with MacArthur, who secreted her up in a hotel as his mistress. The relationship dissolved four years later with MacArthur paying her off to leave the country," Ruperto stated.
"Cooper refused to leave and then re-surfaced in Hollywood in 1940 to try her luck in film acting. She landed bit parts until her suicide in 1960.
I decided to make a group of works where Cooper haunts the present through her image. I imagined myself as a medium through which she appears, a ghost, hopefully free from my own instrumentalization," he said.
In the first work, "Appearance of Isabel Rosario Cooper," Ruperto explained he collected all the scenes from her Hollywood career, usually as an extra walking across the frame, and roto-scoped and digitally blurred everything else but her image.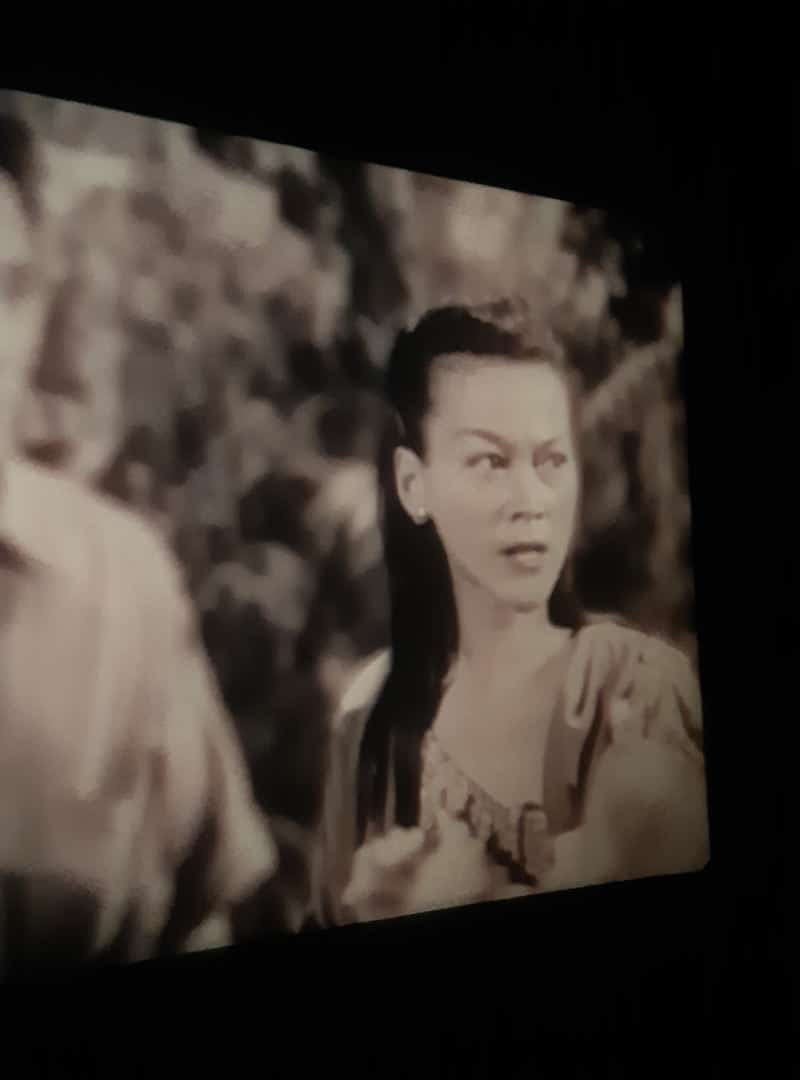 "This is transferred to and then shown in 16mm film," he noted.
 The second work is "Re-appearance of Isabel Rosario Cooper," another 16mm film where a shadow appears at the end of a hallway to sing a song about longing: a cinematic haunting.
The third work, "Dimples," is a screenplay that exists solely as text. It is a Hollywood take on Cooper's life in Washington with MacArthur and other historical characters.
"The script is purposely written in an outmoded 1930s romantic screwball comedy style," Ruperto said.
"The last is Arden Cho as Isabel Rosario Cooper, and it is a digital video re-creation of a day in a life of Cooper while she lived in the Chastleton Hotel in D.C. in the early 1930s. It is a film about waiting. I also include in the exhibition the Hollywood headshot photos of Cooper from 1940," he added.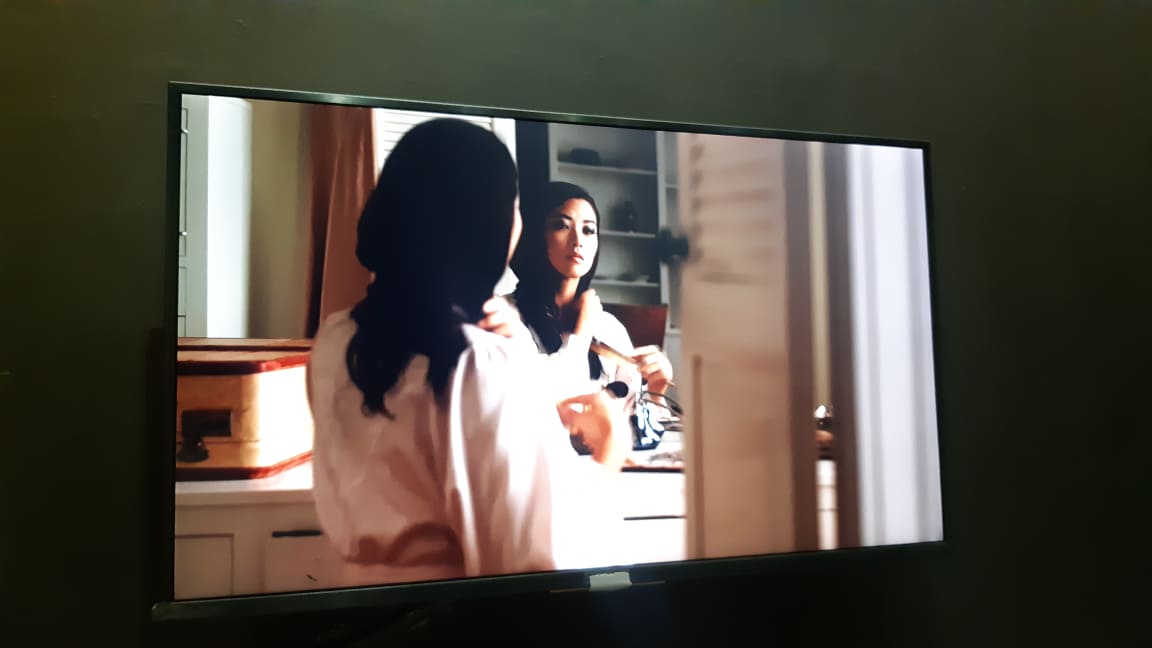 Shrouded in mystery
In the same catalogue, film historian Isidra Reyes of Manila Nostalgia said there was not much information about Cooper, who joined the movies in the 1920s with the decline of bodabil shows.
According to Reyes, Cooper's first film was the 1925 silent film "Miracles of Love," where she was the leading lady of director and lead actor Vicente Salumbides and used the screen name Elizabeth Cooper.
But what put Cooper in the annals of Philippine cinema history was the 1926 silent film "Tatlong Hambog" directed by Jose Nepomuceno, who also produced and directed the first Filipino film "Dalagang Bukid," Reyes said.
It was in this film that Cooper and her leading man Luis Tuason shared the first on-screen kiss in Philippine cinema. Cooper was 12 or 14 at the time, depending on which birth date would be followed, Reyes added.
In the same year that "Tatlong Hambog" came out, Cooper starred as the leading lady in another Vicente Salumbides film, "Fate or Consequence." The star-studded film, which also featured actors Naty Fernandez, Sofia Lota, Raymunda Guidote, Faustino Lichauco and Alejandro Celis, would be Cooper's last appearance in a Filipino film.
After three movies, Reyes wrote that Cooper ended her Manila film career to try her luck as a showgirl in Shanghai, just like the famous Filipina showgirl Miami Salvador.
According to Reyes, when Cooper returned to Manila in 1930, she was "the very embodiment of the flapper popularized in the satirical cartoons of John Held Jr., sporting a boyish bob of the era, flat-chested, skinny-legged, with a gawky amble, wearing brief tight skirts, and speaking baby talk."
In the same year, Cooper first met MacArthur at the Olympic Boxing Stadium (now Rizal Memorial Sports Stadium), Reyes said.
According to Reyes, Cooper was either 16 or 18 (depending on which birthday to follow) at the time while MacArthur, who had assumed command of the Philippine Department of the US Army, was 50.
This probably happened before Oct. 1, 1930, when MacArthur left for the US to assume command of the IX Corps Area in San Francisco, and later became chief of staff of the US Army, Reyes said.
Soon after their first meeting, Reyes wrote that Cooper and MacArthur began regularly seeing each other at Cooper's home along Herran (now Pedro Gil Street) in Paco, Manila. As soon as the relationship began, it became the subject of local gossip, with Cooper being labeled as MacArthur's "mistress" or "concubine" despite the fact that MacArthur and his first wife, heiress Louise Cromwell Brooks, were already divorced in 1929.
Nevertheless, according to Reyes, MacArthur kept the relationship a secret from his conservative mother Pinky to avoid her ire, according to historian Stanley Karnow in his book In Our Image: America's Empire in the Philippines.
In "Illicit Labor: MacArthur's Mistress and Imperial Intimacies" published in Radical History Review in October 2015, Vernadette Vicuña Gonzalez wrote that by December 1930, MacArthur was back in the US after accepting his promotion as chief of staff of the US Army. Cooper would follow him in the US soon after, arriving on Dec. 9, 1930 in Jersey City.

MacArthur brought her to Washington and housed her in the Hotel Chastleton, a few blocks from his office at the State, War, and Navy Building.
At the Hotel Chastleton, MacArthur showered Cooper with gifts, including an enormous wardrobe, a pet dog and a chauffeured limousine. He always wanted Cooper at his disposal, but this became impossible as MacArthur was always away due to his job, according to Gonzalez.
Nevertheless, MacArthur frequently wrote letters and sent postcards to Cooper, much of which expressed his longing for the Filipina more than 40 years his junior. Gonzalez said MacArthur fantasized about a colonial harem at the Chastleton, with Cooper as his doll.
Cooper's confinement at the Chastleton eventually bored her, Gonzalez wrote. She decided to leave the hotel and frequent the nightclubs of Washington and Baltimore where she reportedly seduced other wealthy and prominent men. One time, she partied in Havana, spending an entire cash gift from the general.
Reyes said MacArthur encouraged Cooper to enroll in art classes and eventually take up law, which the young Filipino lass took up but didn't seem to interest her.
Her constant spending and partying would eventually put a strain in their relationship. At one time, when Cooper asked MacArthur if he could help find a job for her brother Allen in the US, MacArthur rudely sent her a "Help Wanted" ad torn from a newspaper.
At the time, Gonzalez said, MacArthur was under immense pressure due to his bungled handling of the 1932 Bonus March of World War I veterans in Washington, which resulted in a violent dispersal that led to widespread condemnation. His mistake resulted in President Herbert Hoover's failed reelection bid.
Under the administration of then US president Franklin Roosevelt, MacArthur became a political target and the subject of gossip. In May 1934, MacArthur sued journalists Drew Pearson and Robert Allen for libel for writing an article criticizing his dictatorial handling of the Bonus March dispersal.
According to Reyes, in preparing their defense, the journalists received assistance from a MacArthur nemesis, Mississippi congressman Ross Collins, who used to live a few floors from Cooper at the Chastleton. Collins leaked to the journalists the existence of MacArthur's paramour in the building during the trial.
Pearson eventually met Cooper, who at the time was job hunting and broke. Motivated by her financial situation, she agreed to pass on to Pearson all of MacArthur's love letters to her, which Pearson planned to use in the case. According to Reyes, when it became known to MacArthur that Cooper would testify in the libel case, he withdrew the case against Pearson and Allen, paid for their legal fees and paid an additional $15,000 to have his letters returned to him.
Heartbroken by Cooper's betrayal, MacArthur bought a train ticket and ocean liner passage for Cooper, intending to send her back to Manila. But instead of leaving America, Cooper settled in California, hoping to make a living as an actress.
Meanwhile, MacArthur returned to the Philippines to assume command of the United States Armed Forces in the Far East and as field marshal of the Philippine Army.
He became famous for the words "I shall return" after he and his family left the Philippines during World War II in 1942 vowing to return. Based on accounts, he fulfilled that pledge on Oct. 20, 1944 and started a series of campaigns that liberated the country and ended with the official surrender of the Imperial Japanese Armed Forces in the Philippines on Sept. 3, 1945.
According to Reyes, Cooper was a bit player in a number of Hollywood films such as Mark Sandrich's "So Proudly We Hail" (1943), Lewis Milestone's "Purple Heart" (1944), Cecil B. De Mille's "The Story of Dr. Wassell" (1944), John Cromwell's "Anna and the King of Siam" (1946), Elia Kazan's "Boomerang" (1947), Cecil B. De Mille's "Unconquered" (1947), John Brahm's "Singapore" (1947) and William Beaudine's "The Chinese Ring" (1947).
She was credited under the screen name Dimples Cooper.
She also had another screen name, Chabing, under which she was credited as a bit player in films such as Charlie Chan's "Shanghai Chest" (1948), Peter Godfrey's "The Great Jewel Robber" (1950), Lawrence Raimond's "The Art of the Burlesque" (1950), Jacques Tourneur's "Anne of the Indies" (1951) and Leslie Selanderf's "I Was an American Spy" (1951).
After her relationship with MacArthur, Cooper married lawyer Frank Kennemore Jr. in 1935, whom she divorced in 1942. In California, she married Filipino-American bartender Milton Moreno in 1944 — a marriage that also ended in divorce.
Cooper died at age 46 at her home in Los Angeles on June 29, 1960 after taking her life through an overdose of barbiturates.