Young Entrepreneurs Find Ways To Help Rural Grassroots Communities
Several social enterprises have banded together and harnessed their collective strengths to form a commune that will help grow their business and the rural communities they support.
For many Filipinos living in rural areas, poverty and unemployment remain the major problems.
While the Philippine Statistics Authority stated last April that the poverty incidence among families fell to 16.1 percent from January to June 2018 compared to 22.2 percent in the same period in 2015, many families in the rural regions such as the Bangsamoro Autonomous Region in Muslim Mindanao (ARMM) and Zamboanga Peninsula remain poor.
In a report titled Making Growth Work for the Poor: A Poverty Assessment for the Philippines, which was released in May 2018, the World Bank identified inequitable investment in human capital and insufficient well-paying job opportunities as the two major reasons that trap the poor in poverty across generations in many parts of the Philippines.
One of the ways being seen as a solution to the lack of investment in human capital and scarcity in job opportunities in the countryside is the establishment of social enterprises – businesses that create positive impact on communities through livelihood creation, income generation, environmental protection and promotion of well-being.
According to the British Council, there were 164,473 social enterprises in the Philippines in 2017, benefiting 4.7 million Filipinos. These social enterprises have impacted the job market with a five-percent job increase from 2016 (16,504 jobs) to 2017 (17,434).
Nevertheless, social enterprises still face a number of challenges especially in terms of growth and expansion. There aren't a lot of programs in place to support the growth of social enterprises and even the legal framework to back the establishment of such programs is not yet in place.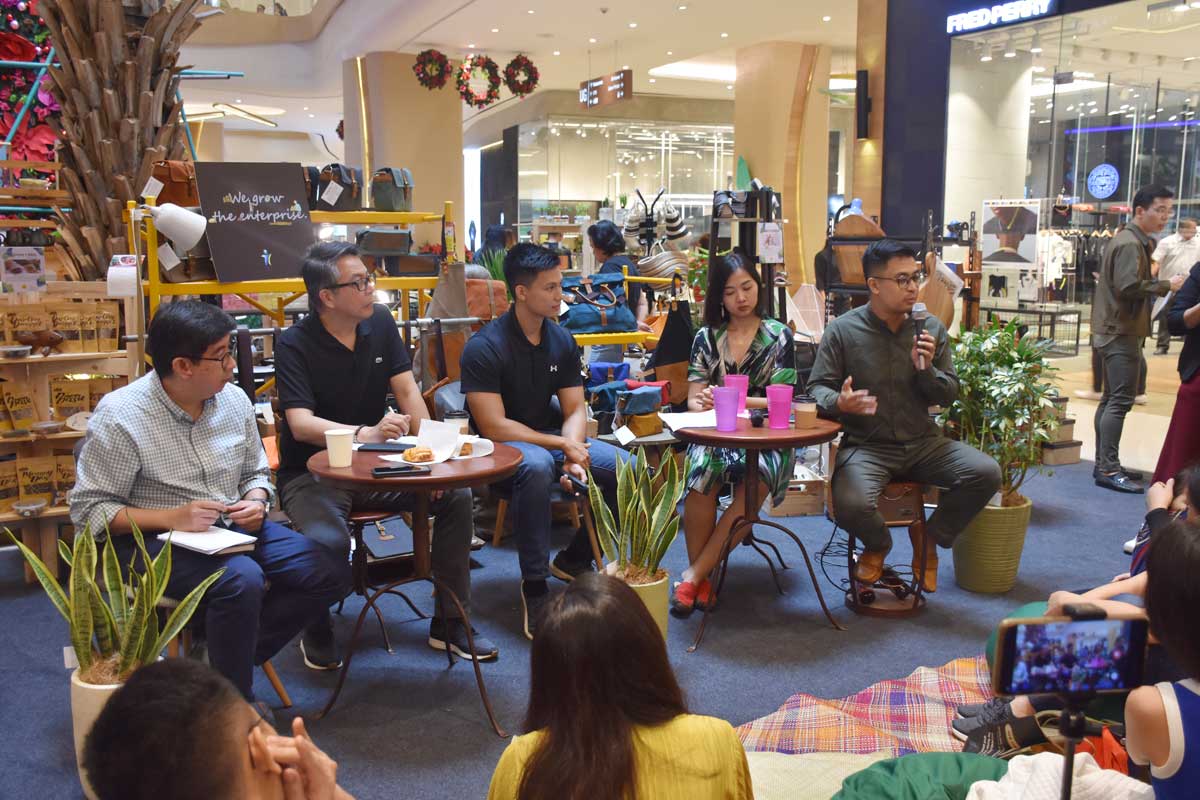 Harnessing collective strengths
To surmount these challenges, several social enterprises have banded together to form a commune that will harness their collective strengths to generate growth for their respective social enterprises and the communities they support.
Established in 2016, the Roots Collective is composed of over 20 social enterprises that work together for sustainable and inclusive development in the Philippines by providing market access to locally made products, building capacities for communities to develop such products and helping these communities find funding opportunities.
Initially, members of the collective are confined to selling their products at their store along Katipunan Avenue in Quezon City, which also serves as a café, events place and co-working space.
On Monday, Sept. 30, the collective, in partnership with the Peace and Equity Foundation (PEF), opened its first Roots Commune at the atrium of the Uptown Mall in Uptown Bonifacio, Taguig City.
The commune, which will run until Oct. 6, showcases a wide variety of products that were developed using principles of sustainable development. All of the products showcased in the commune are handcrafted by local communities that they support, made of natural materials, produce zero waste and made using fair trade practices. 
In an interview with The Philippine STAR, Jamir Ocampo, CEO of the Roots Collective, said, "Our goal is to grow enterprises like these to be more impactful. If you are a social enterprise, you can only make an impact if you have access to markets and make sales, so we have to grow them."
"However, with small brands like these, you really can't get into this kind of marketplace with the established and imported brands around us. So, the way to go to enter this market is to do it together, to have a space like this to promote these brands. We are banding together to help each other," Ocampo added.
Also featured in the launch of Roots Commune is the Sibol fund, a P3.5-million special grant facility established by the PEF and the Forest Foundation Philippines (FFP) that will enable startups to develop or enhance the social impact of their business for poverty alleviation and environmental conservation.
PEF and FFP have pledged to support the Sibol Fund, to help startups transition to sustainable business and confront several growth barriers both internally and externally. It will work on piloting testing in eight different project sites across the Philippines in the next two years. 
'Tea-ming up' with relocated communities
Apart from being Roots Collective's CEO, Ocampo is also the founder and owner of his own social enterprise called Tsaa Laya, which makes and sells different local teas that were cultivated and packed in rural communities in Laguna, Quezon province and Benguet.
"I started this almost seven years ago after working for the Commission on Human Rights where I've worked with different urban poor communities that have been relocated to the countryside because of demolitions. I guess I just got personally challenged doing government work and telling people that it's okay to be relocated. Of course, it's very limited on the government side," Ocampo said.
Seeing how relocation affects families' livelihood, he decided to quit his job and focus on providing livelihood to families in relocation areas through Tsaa Laya. Aside from job and income generation, the business has helped the communities become self-reliant enterprises.
"Our Calauan, Laguna community has finally established itself as a cooperative and we are currently linking other businesses to work with them aside from Tsaa Laya. And now, we were able to establish an association of tea farmers in Benguet and we are helping them find business partners as well," Ocampo said.
Aside from the Roots Commune, Tsaa Laya teas are available at Bo's Coffee branches, where they are used for iced tea. They are also carried by several hotels and restaurants nationwide. 
The holy grail of grains
Another social enterprise in the Roots Commune is Wholly Grain, which sells various snacks made of locally grown sorghum. It is owned by Dexter Yu, who also serves as the Roots Collective's project manager. He started the business three years ago with a group of classmates as a thesis in college on climate-resilient grains.
"It's a climate-resilient grain. It can be used as a staple. You can turn it into a rice substitute or into flour, or you can have it as a snack like popcorn. It's nutritious, it's gluten-free, and the grain can withstand floods and droughts. This is one of the grains that the UN (United Nations) has listed as climate change-resilient," Yu said.
Right now, Wholly Grain has entered into contract farming with sorghum farmers in Pinili, Ilocos Norte. The company will buy the raw sorghum from the farmers at fair trade prices and then process and package the grains into granola bars, popped sorghum and sorghum flour.
The brand name comes from the fact that sorghum is a whole grain and because it also sounds like Holy Grail, with sorghum being the "holy grail" of grains for being climate change-resistant.
Currently, aside from the Roots Commune, Wholly Grain is available in a number of small stores like Real Foods and ECHOstore in Bonifacio Global City, The Naturale Market in Burgos Circle, and Earth Origins in San Juan City. 
A noble venture from coconuts
Social enterprise Lakan Lubi is also part of the Roots Commune. It makes coconut-based products such as soaps, pomades, body washes, balms, deodorants and virgin coconut oil (VCO) infused with different herbs and essential oils.
Its founder and owner Kei Sison got the idea from her father, who was once called the Coconut Emperor because of his coconut products business. The name Lakan Lubi comes from the Cebuano words for "nobleman" and "coconut meat."
"We want to help the coconut farmers have a livelihood, so we buy their virgin coconut oil to sell and turn into different products that we market here and abroad. We also want to help spread awareness on the benefits of virgin coconut oil both locally and globally. Filipinos know that it's there, it's easily available, but they don't really know the benefits, so we want to educate them," Sison said.
As of now, they get their VCO from coconut farmers in Tiaong, Quezon. But in the future, the enterprise wants to assist the farmers to gain access to equipment so they can manufacture VCO and other coconut products on their own.
Aside from the commune, its also available in Lakan Lubi's store in BF Parañaque and in their online store. They also market the products in different trade fairs and as corporate giveaways.
"For me the community is really good. You can feel everybody helping each other. Walang ere, walang 'O, my product is better than yours.' Walang competition feel. It's a small community that helps each other out. Para kayong magkakaiban at magkakapatid," Sison noted.
Aside from Tsaa Laya, Wholly Grain and Lakan Lubi, the other social enterprises in the Roots Commune are specialty leather bags maker Gouache, footwear and accessories maker HABI Footwear and Lifestyle, artisanal chocolate maker Hiraya Chocolates, handmade furniture company Balai Kamai, vegan food maker Worth The Health Foods, seafood products maker Balangay's Best, chocolate manufacturer Chocoliz, footwear brand Risque Designs, local sock brand INDI, organic bath and body goods maker Mayumi Organics, personal care products maker Maricare, home care products maker Sarah's Home, wood products maker Rustic Creations, accessories maker Plural & Co., vegan products maker Superfood Grocer, woven bags maker AKABA, coffee company Coffee Ministry, banig bags maker WOVEN, local craft beer Nipa Brew, peanut company B-Nuts, zero-waste products maker Eco Loving Ideas, and abaca goods maker Bicol Sweetgrass Handicrafts.